Designing a friend's wedding invitation is one of my favorite things to do; especially when that friend is one I've laughed, cried, and dreamed with about her wedding day. When Amber asked me to design the invitation for her and David's celebration, I was so excited! This day was a lifelong dream for her, and I had the dual honor of creating the invitation and standing with her as part of the wedding party.
Nature and Light
The concept of the invitation came from the venue itself – called, very accurately, The Venue. Their outdoor space features a canopy of trees and twinkling lights over natural rock formations and a gorgeous outdoor hearth. It would be very easy to take too many of these elements and clutter up the layout, or to make the suite itself complicated. Amber didn't want that. Instead, she wanted grays and whites with a pop of burgundy: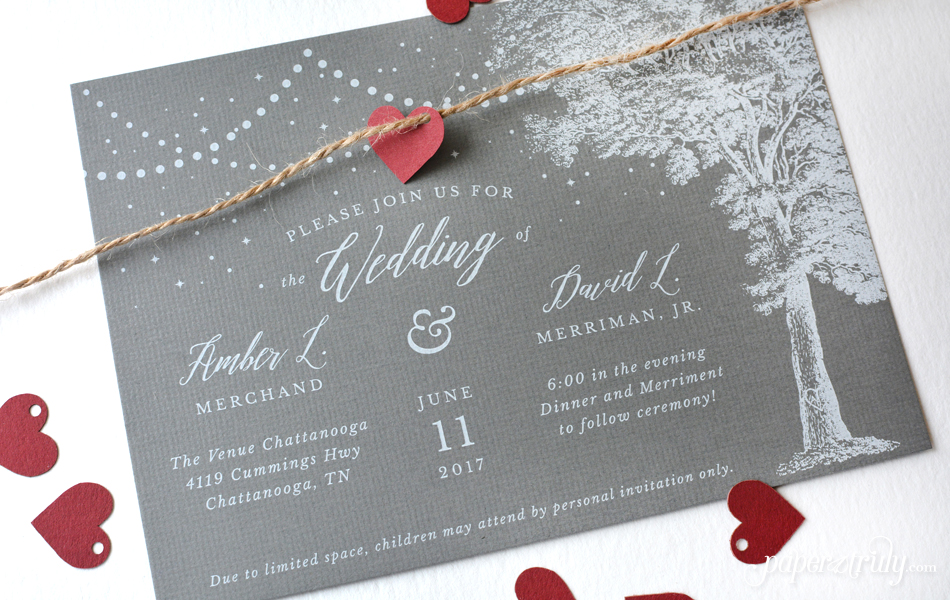 The tree illustration sets the tone for the invitation: natural and elegant, romantic but not romanticized. Much like the couple themselves, the suite embraces the reality of life, yet chooses to set love – in this case, represented by a laser-cut paper heart – at its center: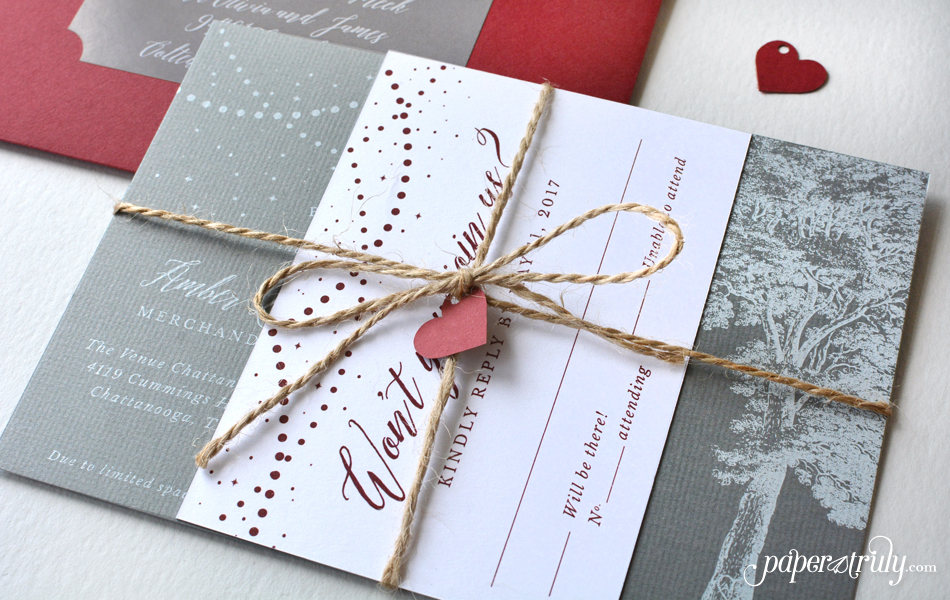 With only two cards and a jute twine wrap, it's a simple suite. But as Jon has written about before, the choice of paper can do a lot to make an impression. I selected two contrasting papers in both color and texture, both 100# cover weight. The heavier weight makes the invitation feel more substantial in hand, while the contrast in color and texture give it visual and tactile interest.
The white on gray of the main invite evokes a starlit night, and the bold burgundy on white of the RSVP is an eye-catching call to action. (And as you know, eye-catching RSVP's get results!) Overall it's a visually interesting piece that is nice to hold and feels far more expensive than it actually was.
Celebration of a Lifetime
Amber and David are a fun couple, I love them dearly! For example, their reception dinner featured chicken and waffles and a baseball-shaped groom's cake. It wasn't a huge wedding, but they made it their own with heartfelt, personal vows; beautiful live music during the ceremony; and lots of dancing! At the end of the night, it was a quick trip through a sparkler tunnel and then off to their honeymoon in a vintage car. We've written before about picking the right details to make your wedding day feel special, and Amber and David did a wonderful job of creating a celebration that was entirely theirs. Congratulations, you two, we're so happy for you!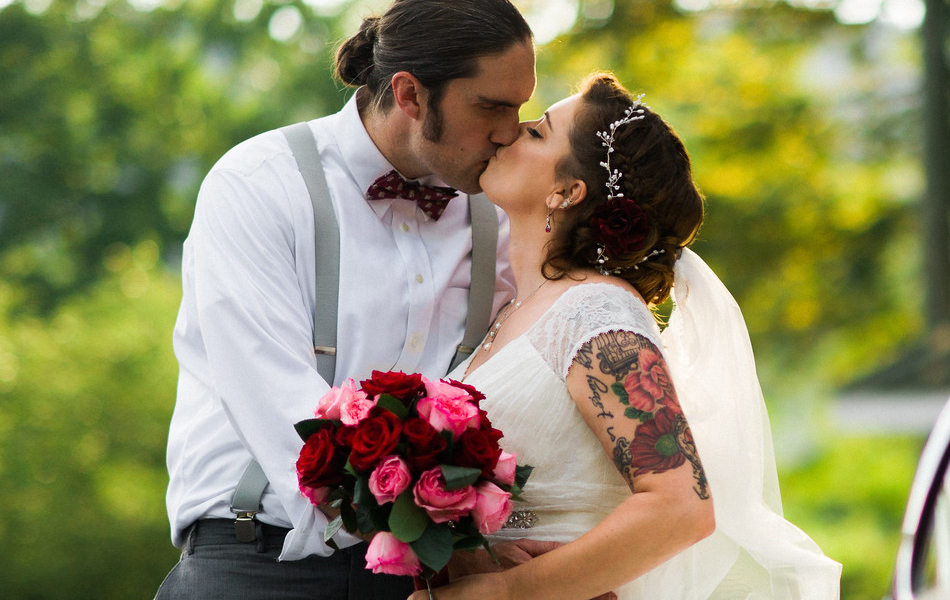 Thank you to Nathan Aplanalp Photography for capturing these two so beautifully! You can find more custom projects in our gallery and create your own custom invitations with us!