Though the majority of our customers are preparing for a wedding, we're always excited when a Mitzvah comes our way. Every time, these young (soon-to-be-adults) really know how to have fun with a party, and their ideas always inspire creativity!
For Anna, it was our pleasure to create this fantastic and refreshing ski-themed custom Bat Mitzvah invitation. It's a laser cut design in a tri-fold layout. When closed, the couple on the ski lift are sky-high above layers of trees and mountains illustrated in a theme of wintery blues. It's such a wonderfully dimensional piece, embellished with custom postage and a cotton twine that gives a hint of a warm winter blanket's feel.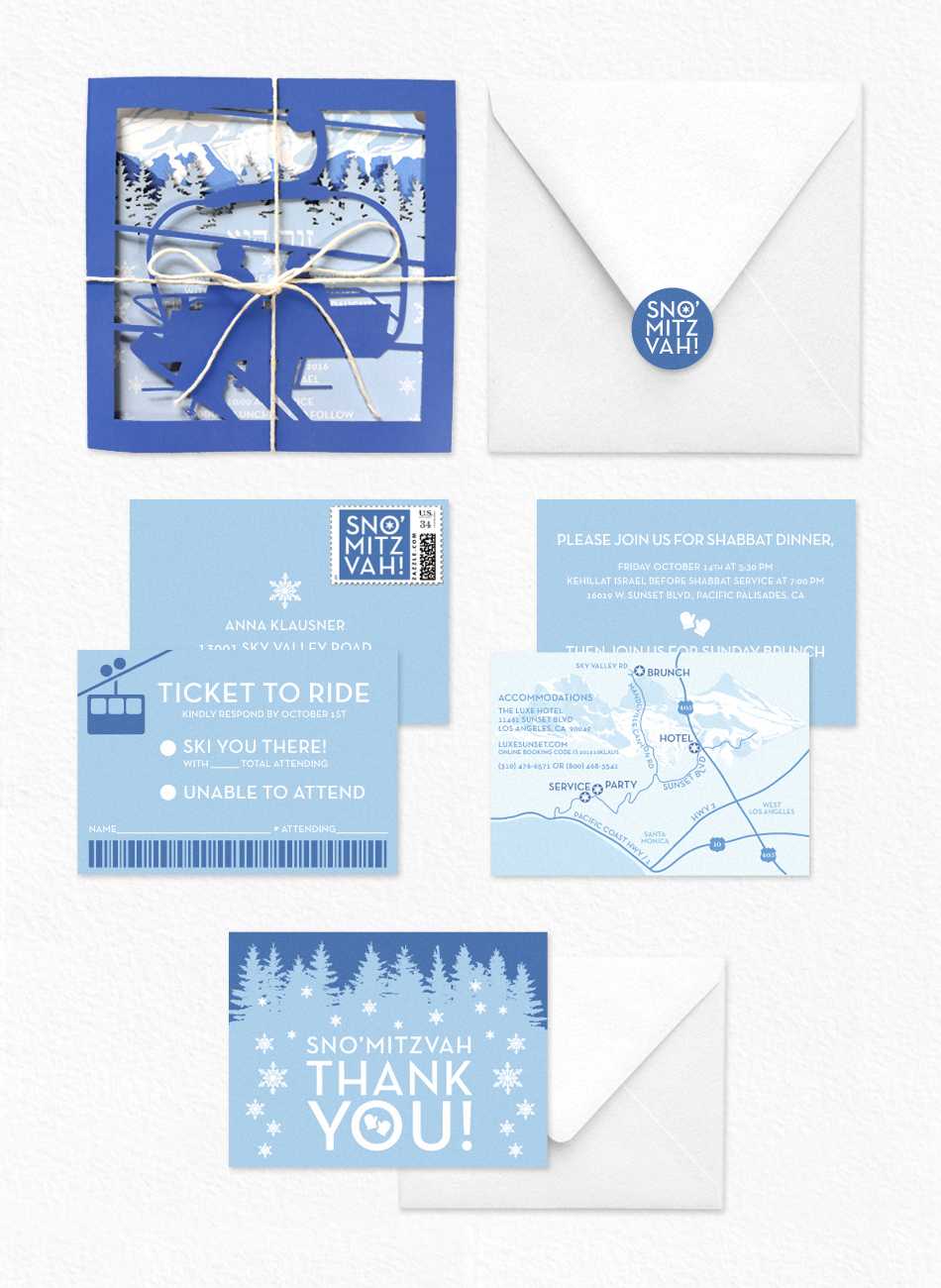 We love how the different info and reply cards turned out, too. The simple iconography of the lift ticket RSVP and the symmetry of the snowflakes play against the natural lines of the trees and the mountains. Combined with the simple font, it creates a suite that feels like a smart 21st century update of a mid-20th century look. (Personal favorite: The mittens. Whimsical, fun, and like a tiny high-five!)
This wasn't our first project for Anna's family. We created her brother's Bar Mitzvah invitation a few years ago, featuring a customized version of our Monopoly design. That suite has gone on to become one of our most popular Mitzvah designs for families all over the US!
Since neither of us grew up Jewish, it's been fascinating to learn about the many traditions involved in Bar, Bat, B'Nai, and B'not Mitzvahs; and we're excited to serve more clients planning Mitzvah parties. Though many of our existing designs can be tailored to a variety of occasions, creating fully custom projects is always a unique challenge. Learning what pre-teens want in order to express their individual taste is a category of research we have to approach in a new way every time, but there's no end to the excitement or the potential!
Happy birthday, Anna! Have a wonderful Sno'Mitzvah!