Ahoy, mateys! Raise ye spyglass upon Kingston's Planks and Ladders, a mighty fine invitation for a 7 y'arrr old's big party. Hook a freebooter and spin the spinner: Will ye make it to the crow's nest, or be ye dropped into the depths of Davy Jones' Locker? Ye old sea dogs and ye powder monkeys will be at cutlasses for the booty!
. . . Phew. Okay, enough talking like a pirate.
Kingston's pirate-themed 7th birthday party would not be complete without this fantastic, interactive party invitation! Reminiscent of the classic kids game of Chutes and Ladders, young guests will be scampering all over the ship to be the first pirate to make it to the party.
The game works exactly like the original game, but with rope ladders, and, of course, planks instead of chutes. Each invitation includes a playing board, 2 pirate pawns, and a spinner card. First player to X wins!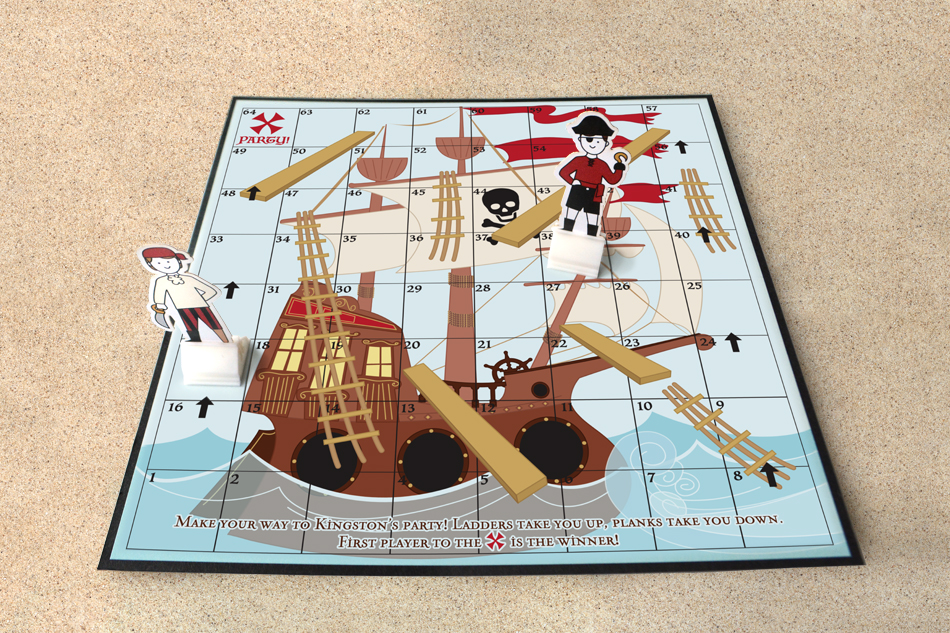 We absolutely adore projects like this! When Kingston's mom approached us with a basic idea, we immediately started brainstorming the details. Since the original game is on a much larger board, our first challenge was to decide what scale our game would be. Jon has a knack for creating games, and he took Melissa's basic dimensions for the piece and worked out the size of the grid and quantities of ladders and planks.  Melissa had such fun illustrating everything in the pirate theme. The laser-cut pirate characters, in particular, are both adorable and darkly humorous at the same time. Overall, it was a fun departure from the usual style we have.
The end result was an eye-catching interactive invitation that offers much more than the traditional flat card. We're avid supporters of hands-on play for children of all ages, and an engaging pirate birthday invitation is sure to get kids excited for the event. Happy 7th, Kingston!
Want to make your own custom invitations for a wedding, birthday, or other event? Visit the Custom page to get started, and get inspiration from this seelection of our other custom work!