Subscribe to our bi-weekly video series on YouTube!
After weeks of researching, dreaming, and thinking, you've finally decided: You want totally custom invitations. The world has just opened up before you, a blank canvas awaits…now what? Well, in this blog, we're going to give you practical advice and a few tools to help you make the most of your custom invitations!
Theme, Layout, and Concept are Three Different Things
Your Pinterest is full of different invitation ideas by now, and if we were to ask you to describe your vision for your invitations, it might sound like a jumble of influences, styles, illustrations, and references. In order to make sense of that jumble, let's define Theme, Layout, and Concept, because they are indeed three different things.
A Theme is a set of visuals that works together. It can be a color, a particular style, or even a visual element.
The Layout is the arrangement of text and illustrations on the physical piece. This includes things like the cards, pockets, folds, laser or die cuts, and trimming/sizing of the piece.
Your Concept is the strongest element of the piece that ties together theme and layout. Your theme should reinforce the concept while the concept gives unity and focus to the theme and layout.
A great custom invitation will have all 3 working together. However, we know that's really abstract, so let's look at an example.
A Cinematic Example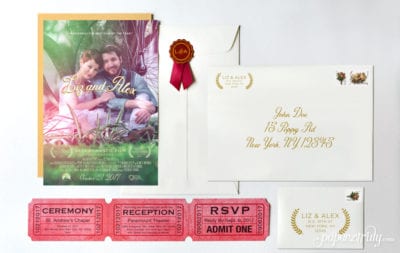 Let's practice: Take a moment and look at Premiere suite. Ask yourself what you think the theme is, what the components of the layout are, and what the overall concept is.
Ready?
The theme is movie-related. That was (hopefully) obvious. The main invite looks like a movie poster, the RSVP and info cards are styled like tickets, and the envelope itself has an Academy-styled seal. Visually, there are cues and influences on each piece and between pieces that tie them to that theme.
The layout of each piece is radically different, though. The main invite is an oversized flat card with straight cuts that is backed in a gold-finish paper. It's not literally movie poster sized, however, because that would be impractical and (frankly) annoying to hold. The laser-cut tickets are also not life-sized, because literal tickets would be too small to hold all of the information. Additionally, almost no one uses tickets like that anymore, yet the combination of theme and layout evoke a classic movie feel. There's a lesson there: Don't let literal limit your layout. Also, try to say that three times fast.
The concept, then, is that this couple's wedding is like a movie about them and their love. Guests are being invited to the world premiere, using their ticket RSVP to attend. It's simple, it works, and it's adorable.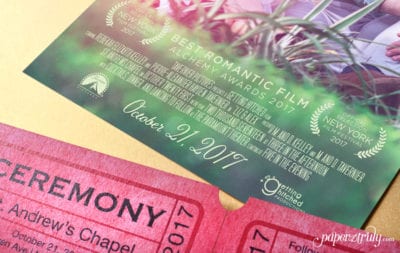 Questions to Consider
The following questions are like tools in your toolbox. Early in your design process, stop and ask these questions about the layout of your piece. A well thought-out layout will always make a fun theme better and a great concept stronger.
How does the piece itself work? Is it a flat card, a gate fold, a self-enclosing pocket card, or another format?
How many cards or other enclosures do you need? You may have a lot of details that need to be on separate cards, but you don't want your invitation spilling out of the envelope. Remember: You can always put more details on a wedding website if you need to.
What kind of paper will it be printed on? You may not know the technical terms for different kinds of paper, but think about the properties of the paper. Is it glossy? Is it matte with a texture? Does it have a second layer on the back? How heavy are the cards?
What kind of printing will be used? Premiere above was printed using a high-quality digital press, but letterpress and foil stamping are popular options, too. Each has a different look and feel, and each has different limitations, so pick the one that suits your vision best.
What shape will it be? Is it a square or rectangular card with straight cuts, or do you need to consider die cutting or laser cutting?
Is it able to be mailed? This is the most important one! Weight, size, and thickness all increase the price of postage, no matter what country you're in. You don't want to create these amazing invitations and not be able to afford to mail them, so get your local post office's guidelines about postage.
To Be Continued
Next time, we will be focusing on your theme and your concept working together and asking the #1 question you MUST ask to make the most of your custom invitations. In the meantime, get some inspiration from our Custom Projects Gallery!
Follow us on Instagram, Facebook, and Twitter! Subscribe to our video series on YouTube! Browse our selection of designs to find your perfect invitations!