Introducing the most exciting project I've had the pleasure to create recently!
Vanessa Diaz is the author and blogger at The Queen of Swag, a blog that shares her creativity and inspiration regarding food, fashion, entertainment, travel, and technology. Vanessa grew up loving two things: The Muppets and Star Wars! Of course I share such love, and thoroughly enjoyed many conversations with Vanessa, figuring out how to combine these two themes into totally unique, totally knock-your-socks-off stationery for her wedding.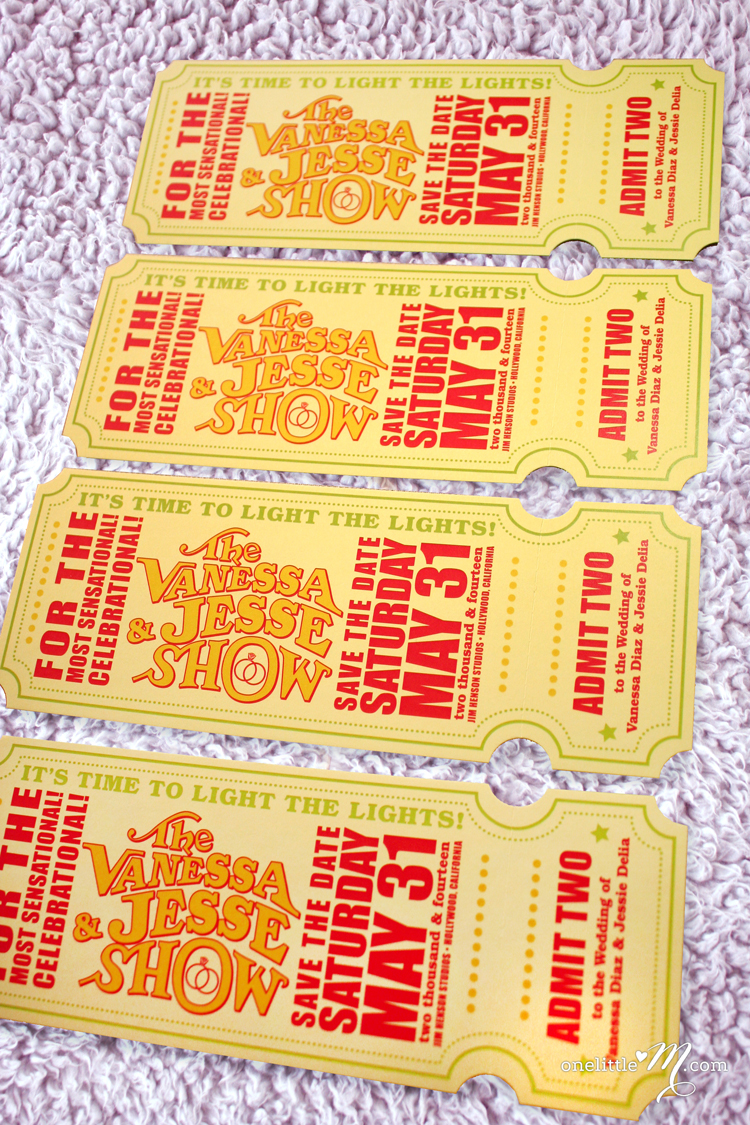 I wanted the materials to feel Muppetish, with a very bright overall palette that resembled an exciting broadway show. The save the dates are set up like show tickets, complete with a perforated tear-off "Admit Two" ticket.
Yes, her wedding and reception are taking place AT JIM HENSON STUDIOS! Vanessa has covered a number of their current shows including Dinosaur Train, Pajanimals, and Sid The Science Kid. She has also interviewed the Muppets themselves at the Jim Henson Studio for the 2011 The Muppets movie. She knew the PR rep for Henson, who helped Vanessa get in touch with the studio manager to book the venue for her wedding. Can you imagine how fun!?
We really wanted to wow guests with the invitation, so I came up with a Muppet Show themed interactive stage piece, featuring the Muppet characters in Star Wars sets, as though they were putting on a production. The curtain card slides up out of the stage pocket, to reveal "the show" and wedding details.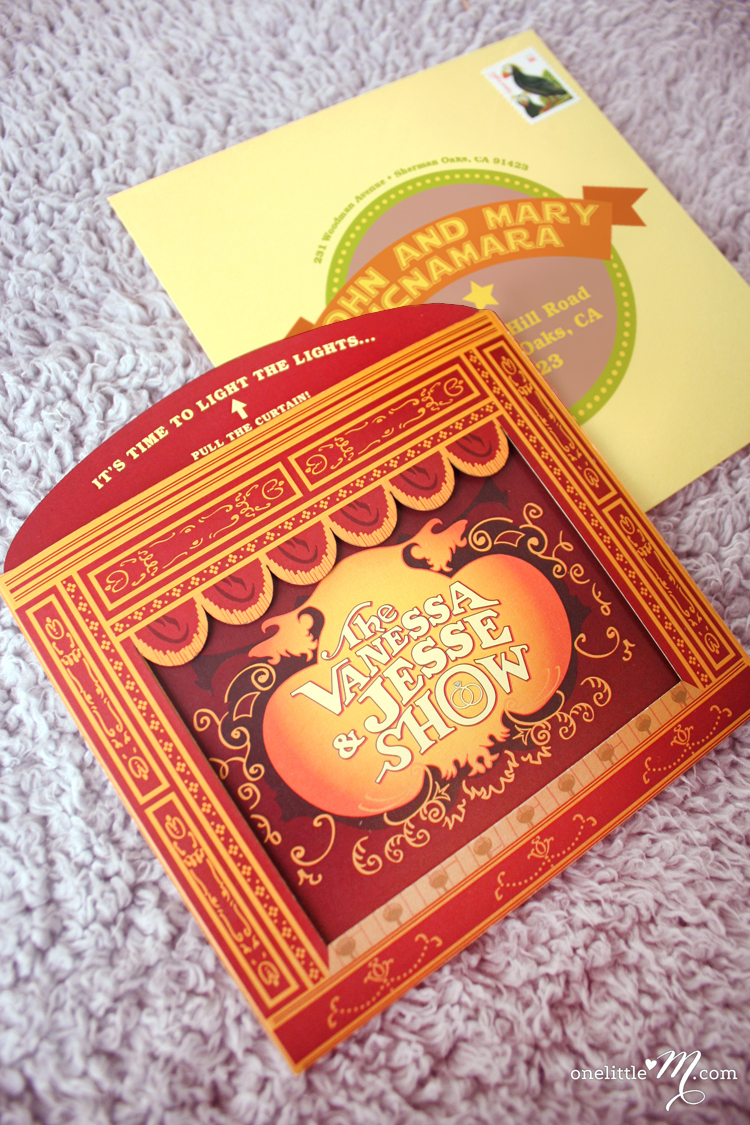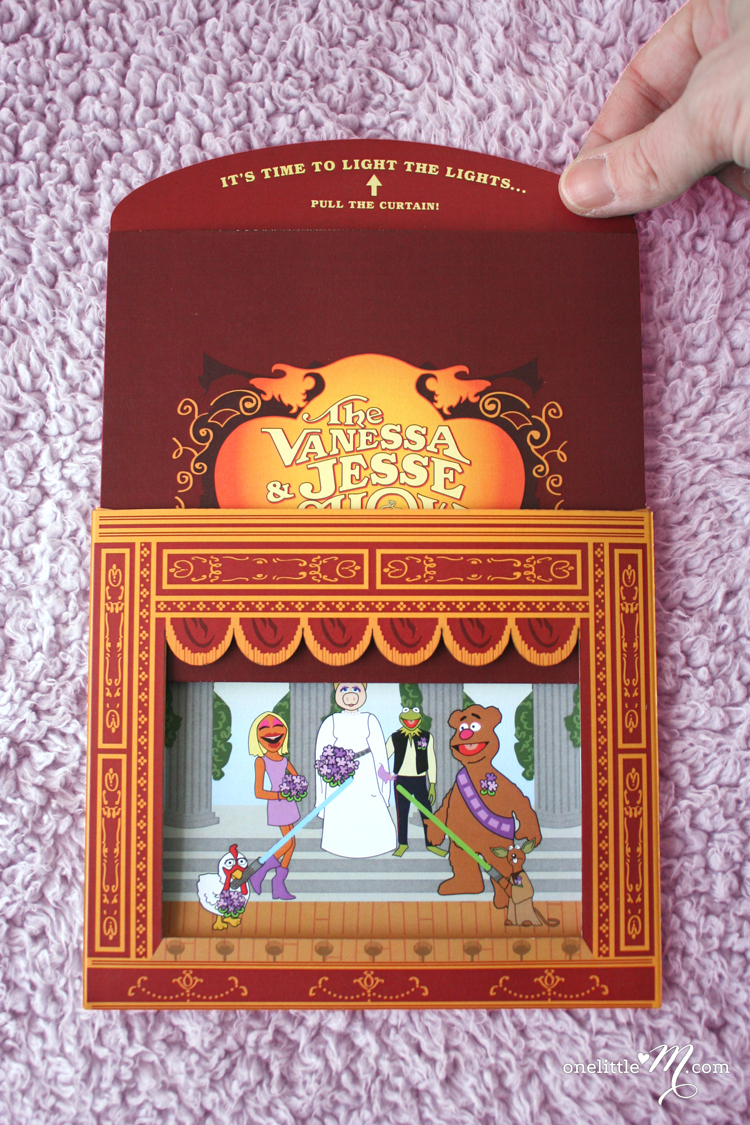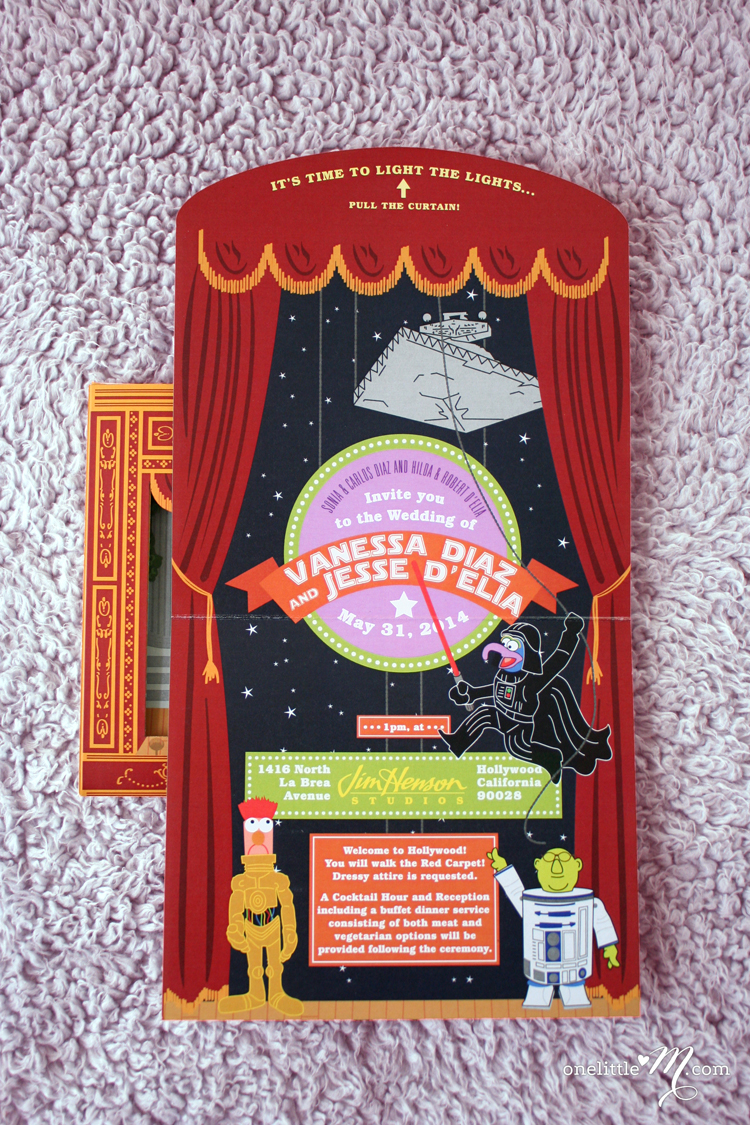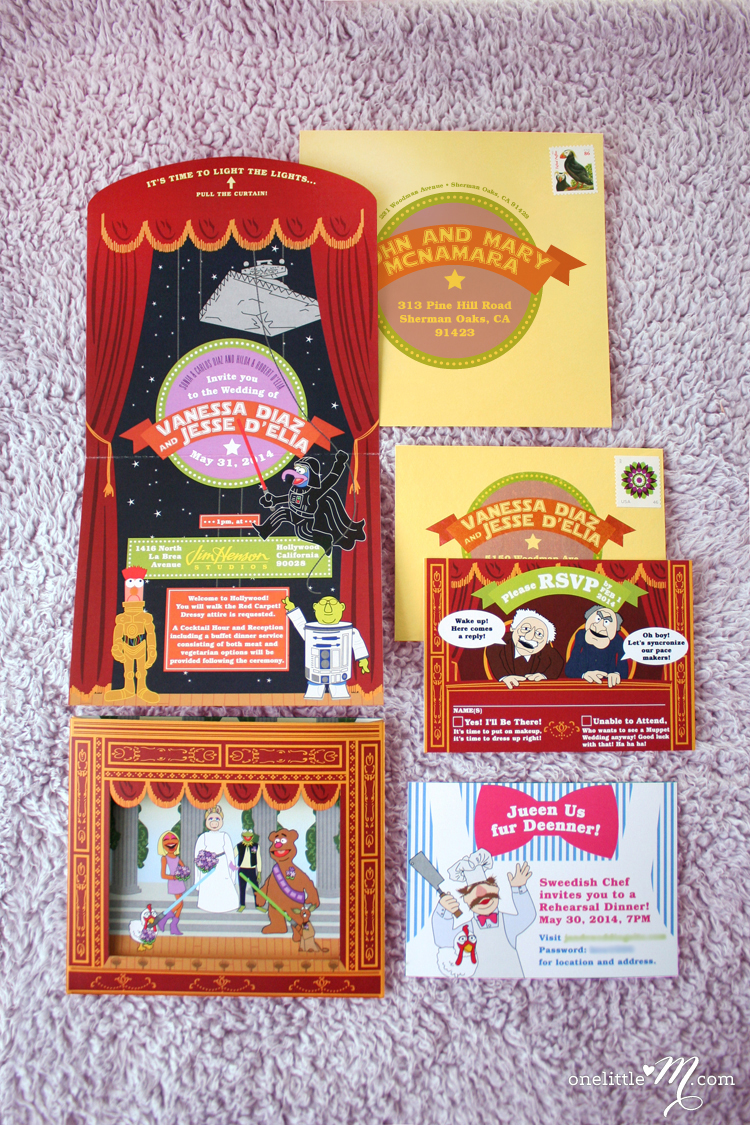 I especially love the response card with Waldorf and Statler commenting, "Wake up! Here comes a reply!"  "Oh boy! Let's synchronize our pace-makers!"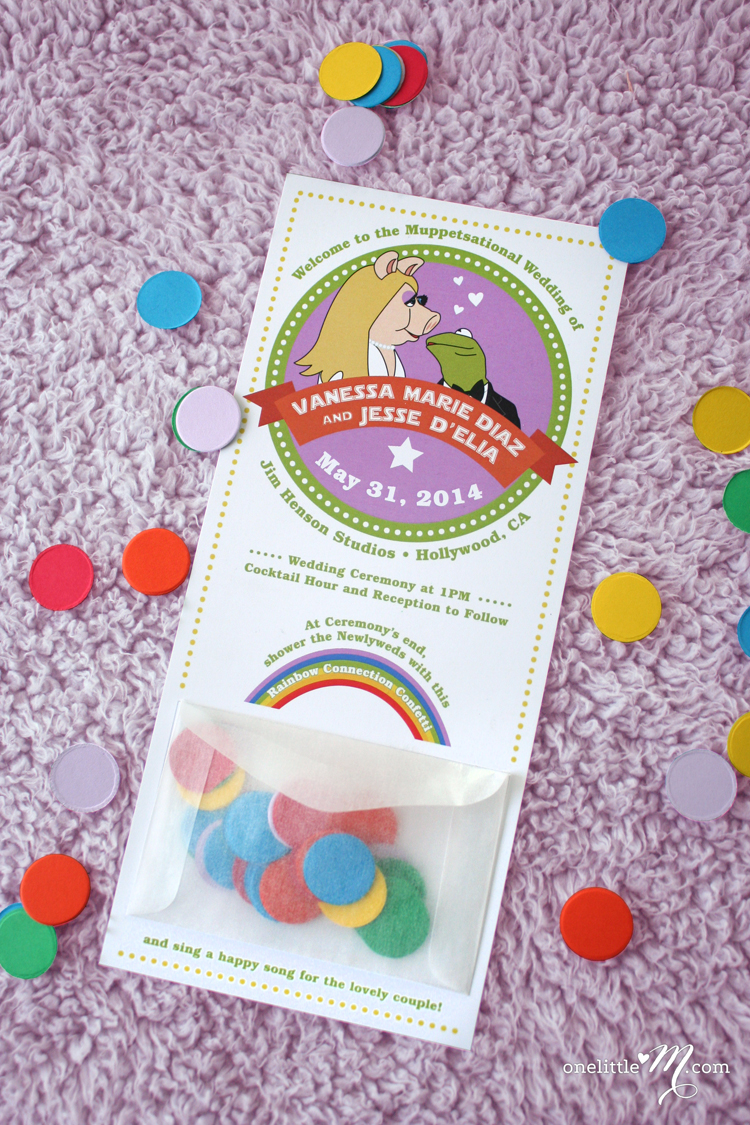 Vanessa's programs feature a pocket of rainbow-connection-colored confetti for guests to toss at ceremony's end!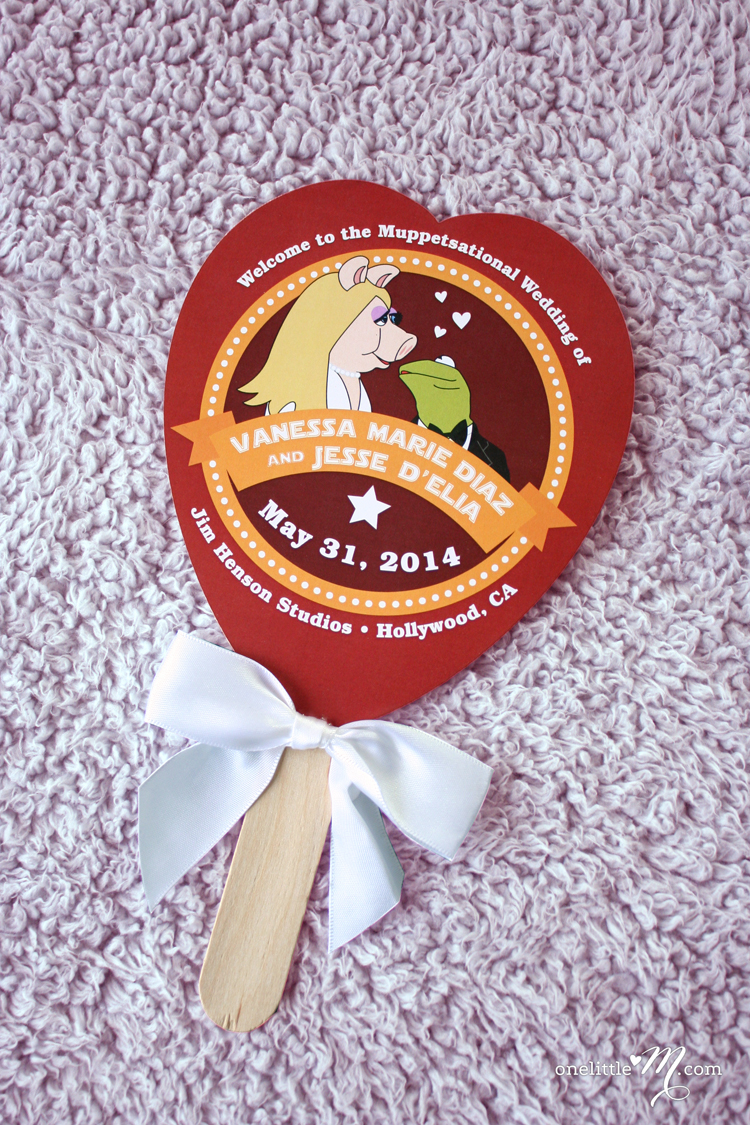 Among other matching reception pieces, we put together some fun themed fans to keep guests cool.
I had such a fun time creating this design! Unfortunately, due to the use of copyrighted characters, this exact design with sets and characters cannot be resold. However I think the stage and curtain setup is a super fun idea, especially for the particularly theatrical couple!