Three years ago, we had the honor of creating Fotini and Harry's wedding invitations. The nature of our work means we usually get to serve couples once – but Fotini had a surprise for us! To celebrate the birth of their son, Peter, Fotini and Harry came to us with a wonderful idea. In Greek, Peter's name is Panayioti. Meaning, yes, he really is Peter Pan!
The original story of Peter Pan is one of innocence, adventure, hope, and family. Though it's been adapted and re-adapted many times in many different media, the core of the story remains unchanged. Fotini and Harry wanted to bring that timeless sense of childhood into the celebration of their Peter's baptism.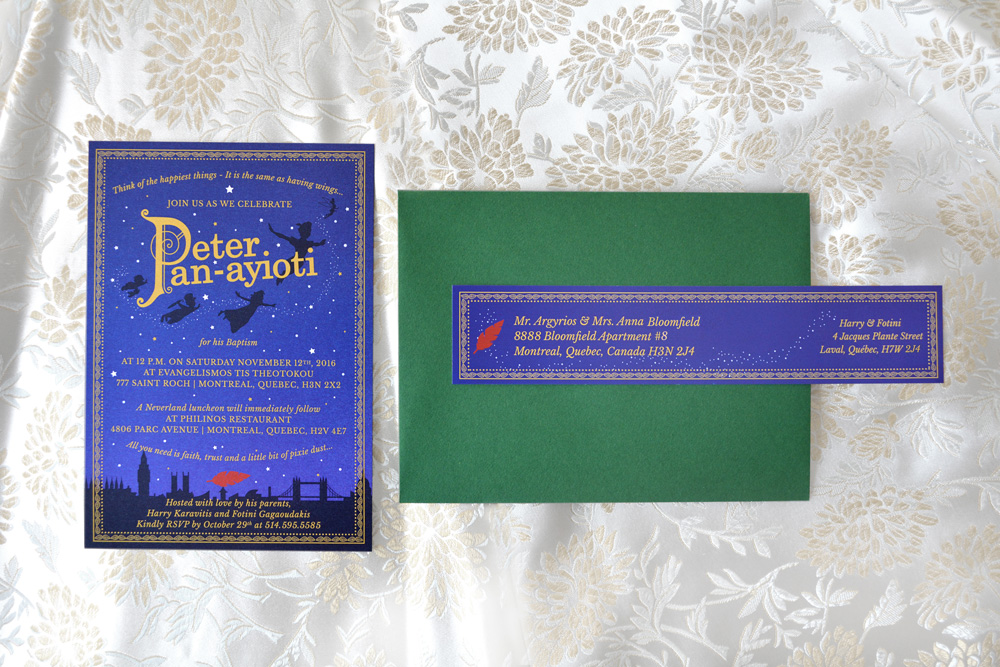 The Design
Fotini had a very specific color palette in mind: Gorgeous, deep blues and greens with white and gold accents. Combined with the unforgettable burgundy feather, it's a handsome combination for a fall event. Melissa took a classic storybook approach with the design, but that presented a challenge. In addition to the original play and several theatrical adaptations, there were many different publications of the book. Each featured an assortment of eye-catching cover designs with intricate bordering and unique lettering. Even the character of Pan had been imagined and re-imagined in a variety of ways.
To solve this challenge, we combined the classic with the modern. Melissa created recognizable character silhouettes similar to Disney's Peter Pan, soaring over the city of London at night. The night scene was a natural fit with Fotini's color pallete, too. The white stars pop out of the deep blue night sky, while the silhouettes float above the sleeping city. The border design was a call back to elements from 1911's Peter And Wendy, but simplified to keep the focus on the name. The elements combined to create something that is both timeless and very much Edwardian – just like the story of Peter Pan.
The Adventure
Of course, there's a real little boy that this invitation is celebrating. Baby Peter's just beginning to explore his new, big world where an abundance of exciting adventures await him. Pan's "never grow up" theme encompasses the innocence of new life, and affirms that childhood is a very special time. Even when, at the end of Peter and Wendy, Peter discovers that Wendy has grown up, the symbol of Pan represents the wonder of childhood ready to sweep a new generation away on an adventure.
So, congratulations Harry and Fotini, and welcome to the adventure, Peter!
Want to create your own custom invitations for baptisms, parties, or weddings? Visit our Custom page here!