We are thrilled to introduce Fairytale, a truly one of a kind experience from cover to cover!
This invitation is a real hardcover storybook with 12 pages telling the tale of the bride and groom's love story, the magical proposal, and, of course, the all-important details for the wedding day. There's even a dedication page and a happily ever after! It's perfect for couples who love fairytales and literature of any kind.
This charming design is inspired by the enchanting storybook opening from Disney's animated film Cinderella. I had been wanting to create a book-themed design for quite some time, but wasn't sure which approach to take. As the saying goes, "Even miracles take a little time."
My daughter and I watched the classic Cinderella as the concept for this design started to form, and I was struck by the beautifully delicate nature of Cinderella's character animation. It's a style unique to older Disney feature films, not seen as much in the later hand-drawn animations. I just adore the transformation sequence as the fairy godmother waves her wand and Cinderella's tattered rags become this elegant, shimmering ballgown. Stunning!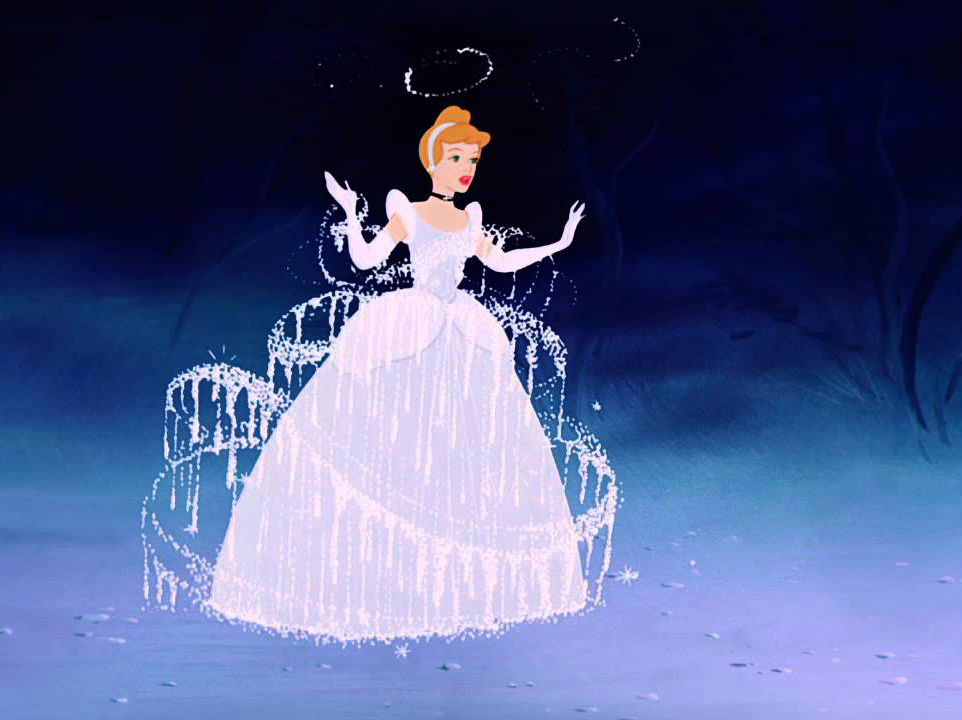 This scene inspired the overall approach I took with the book's decoration, though I consciously designed the invite to have more than just a Cinderella-specific theme. I wanted to create something that would make all fantasy-lovers feel like they were the princess and prince in their own story. Illuminated capitals begin each of three "chapters" : A Love Story, The Proposal, and The Wedding. I didn't want the capitals to feel medieval, so I took that idea and modernized it, adding whimsical scrollwork around each capital: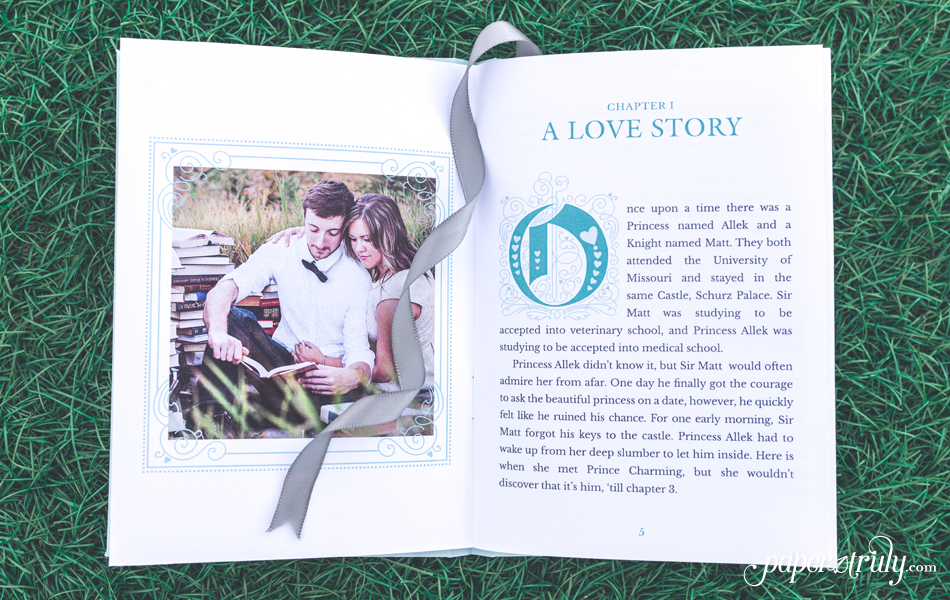 The invite feels like a real book – because it is a real book! The cover is embellished with the bride and groom's names foiled in silver, a satin ribbon bookmark lets guests mark their favorite pages, patterned end pages secure the central text block, and a double scored bind keeps the invitation flat when the book is opened.
I took a trendier approach to the colors I loved from the original film. For example, Cinderella's classic dress is barely her modern signature blue; it's more of a light grey/white with a hint of blue. For a slightly more modern twist, mint and aqua are trending tones perfect for our sample suite. Of course, customers can change anything they like about the colors of the cover paper, the envelopes, the text, and even the choice of silver foil, gold foil, or ink printing for the cover.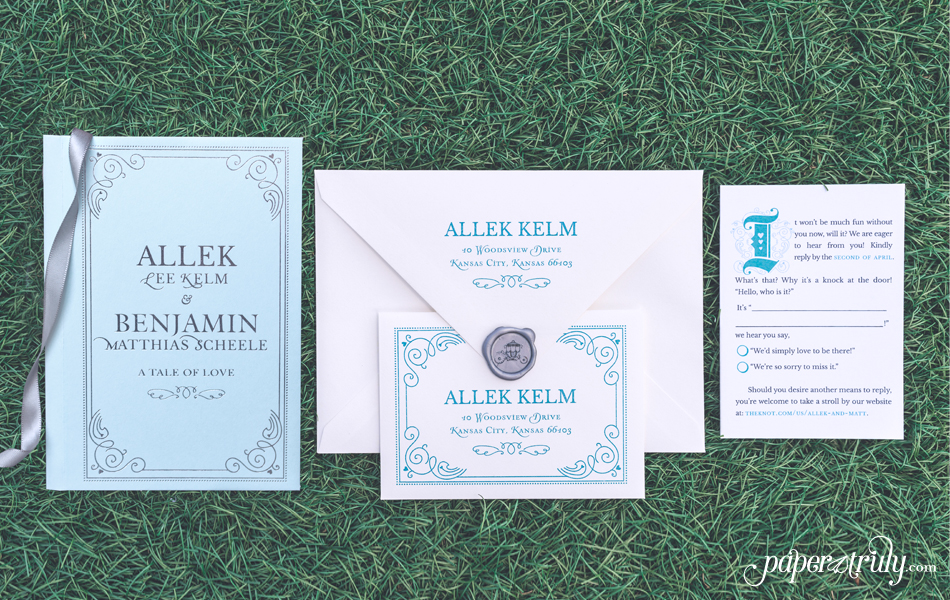 What I love most about this design is the story! We have other designs that feature personal stories from the bride and groom, but the storybook presentation is such a precious way to share your love story with guests. It's always my goal to give each design that touch of individual personality; because, if it's not uniquely about this bride and this groom, then it's just a piece of paper.
This design was already so exciting, then fate decided to provide us connections for something especially magical! My sister Amanda Kar at Manda Marie Photography arranged for Cinderella herself to present Fairytale for us, inside the Magic Kingdom! Yes, that's really Cinderella holding the invite! Read the story about the wonderful time Amanda had shooting the photo above. She specializes in wedding photography with an emphasis on geeky and offbeat themes (surprise: we're sisters after all), and she travels! Take a gaze at her amazing work.
Wishing that someday your dream will come true? See Fairytale in our shop!