Subscribe to our bi-weekly video series on YouTube!
Can you really have fun with save the dates? Absolutely! These surprisingly versatile additions to your wedding suite are totally optional and totally useful.
Save the Date Basics
Save the dates help you get the word out early, often before all of your details are finalized. If you're planning a destination wedding, you'll want to send them 9-12 months in advance of the ceremony. If your wedding won't require as much travel for most people, then 4-6 months is enough time.
It's best to keep them simple, remembering the 4 W's: Who, What, Where, and When. If you have a wedding website, you can include the URL on the save the date. The popular photo card-style save the dates can be great for a simple solution.
One detail you will need to have more or less finalized is your guest list. Everyone who gets a save the date needs to get an invitation, and that includes any "plus ones". It's not as big of a deal if, after you've sent your save the dates, you decide to add someone to the guest list and only send them the formal invitation. But it's a major faux pas to send someone a save the date without following it up with the invitation.
If you're planning a bar or bat mitzvah or other big celebration, you can use save the dates, too! They're useful whenever you need your guests to mark their schedule for a major event.
Save the Dates in a Theme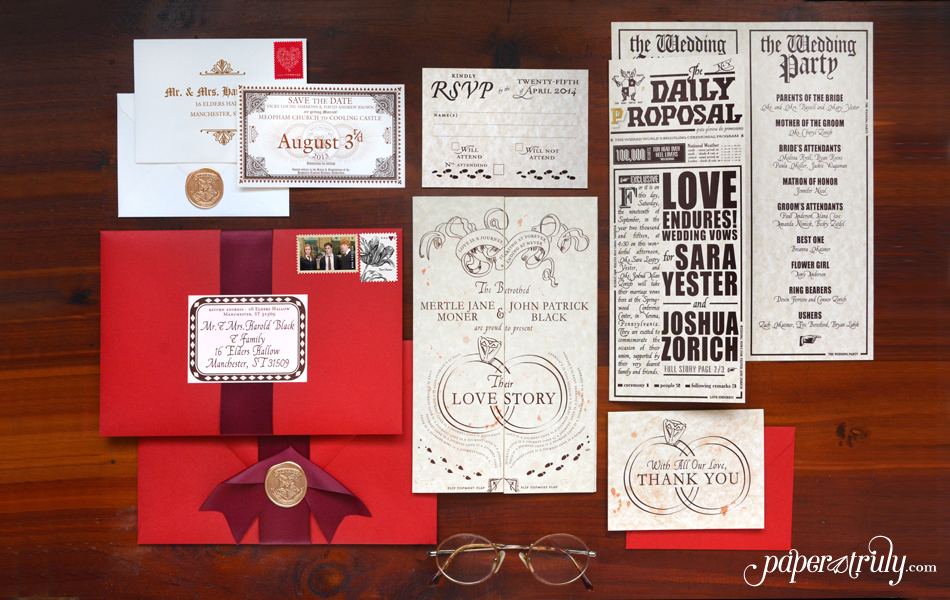 Save the dates can be the first part of a theme that carries through the invitation, ceremony, reception, all the way to the thank you note. For example, Save the Date Express (pictured with Romance Managed and the program and thank you card options) is a fun train ticket-themed save the date that gives guests the sense of embarking on a magical adventure.
When used this way, save the dates become an opportunity for a first impression of your celebration. They begin to set the tone and the style for your event. It does require a little more planning on your part to make a tight theme successful; but if it's what you want for your celebration, we think it's absolutely worth it.
For fun!
Nobody plans a wedding in a vacuum. You and your future spouse have your own visions for what the event will be like, and we're willing to bet your mothers have their own opinions, too! Sometimes that can mean a very formal invitation and ceremony are required, but you're left wanting to let your fun side show. Save the dates are perfect for just an occasion! They're delivered well in advance of the formal invitation, so your save the dates can be as creative and fun as you are.
[screenshot from OH here]
The Cheers! champagne bottle, Decode the Date, and Love is in the Air are all great examples of different ways you can have fun with save the dates. While you probably wouldn't theme your entire wedding suite around any one of them, your guests would be delighted to receive them. And following them with a more formal-style invitation a few weeks later wouldn't seem out of character.
Avoid the Pitfalls!
The number one problem we've seen with save the dates is clutter. Either it's a photo card with a poorly-composed photo paired with text in a hard-to-read font, or it's too much information crammed onto a small card. Doing either or both of those things is a surefire way to mess up your save the dates.
Remember the 4 W's: Who, What, When, Where. Be sure those are clear. Be sure it's legible over whatever background it's on – especially if it's a photo of you and your future spouse. Don't worry about letting your guests know about meal choices, hotel accommodations, or attire just yet. Your formal invitation will have all of that info, and you can always put it on a wedding website.
Finally, take one last run through the guest list and be sure you have everyone – and every "plus one". We said that before, but it's so important, it's worth saying again. Setting your guest list this far in advance means you have one less thing to worry about later. Your expected guest count is the one thing every single vendor will ask, and you'll have an answer ready for them.
Save the dates can be the most versatile part of your wedding suite. Keep our advice in mind, and you'll have fun, creative save the dates that delight your guests and build excitement for your big day!
Follow us on Instagram, Facebook, and Twitter! Subscribe to our video series on YouTube! Browse our selection of designs to find your perfect invitations!