Sherry and Scott were throwing one of the most unique celebrations we'd ever seen: A nine-day wedding adventure outside of Yellowstone National Park! We knew the invite had to match the grandeur of the event while providing useful information, so we created their perfect adventure guidebook wedding invitation.
Melissa's concept started in what some might consider a strange place. We're fans of the style of old US Army training manuals – Melissa keeps a 1970's FM 21-76 Survival field manual in her car, for example. There's a particular blend of information and illustration to the style. But there's something intangible about the style that hearkens back to an optimism and freedom in the outdoors. We wanted to capture this optimism, add a dash of nostalgia, and create a one-of-a-kind invitation for this remarkable couple and their once-in-a-lifetime event.
The Book
Before any embellishments were created or illustrations drawn, we knew the book itself had to feel right.  That meant mocking up a real book similar to our Come Away With Me passport invitation with a kraft paper cover. The size and texture of the paper really felt like an old field manual or guidebook you might have found in your grandfather's fishing gear.
Which, speaking of the most obvious embellishment, an eye-catching shimmery green fly fishing lure was Sherry's request. It really set the tone for the whole invitation! Secured with a jute twine, the overall package looked, felt, and (in a good way) even smelled right.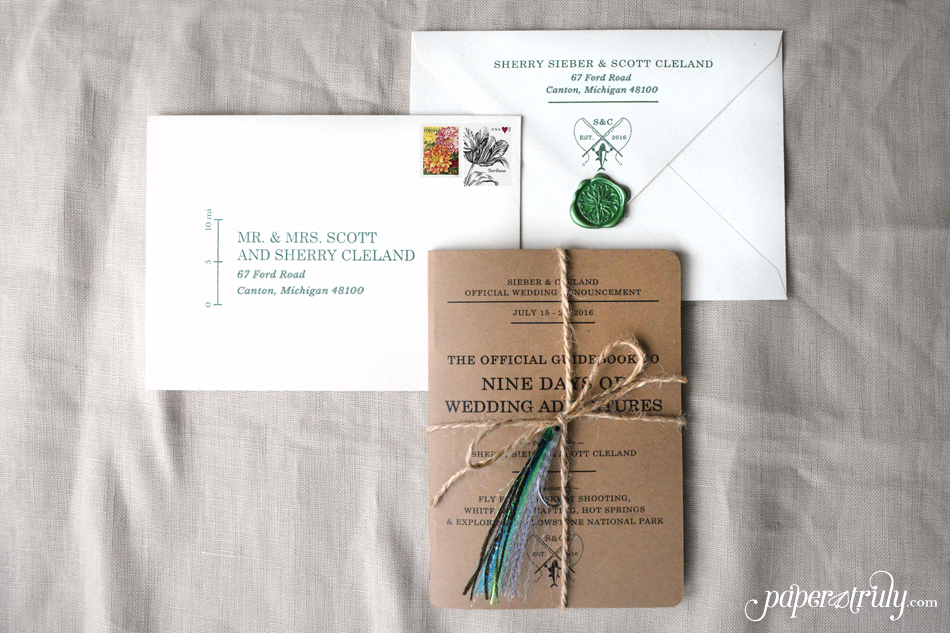 Crafting an Adventure
Inside, the guidebook theme became essential for guests. With nine days of a variety of activities including rafting, skeet shooting, hiking, hot springs, and, yes, fly fishing, the guidebook proved useful. (All of that in addition to the invitation to the ceremony itself!) Guests had 16 pages of useful facts and illustrations about each event as well as a special section about the bride and the groom.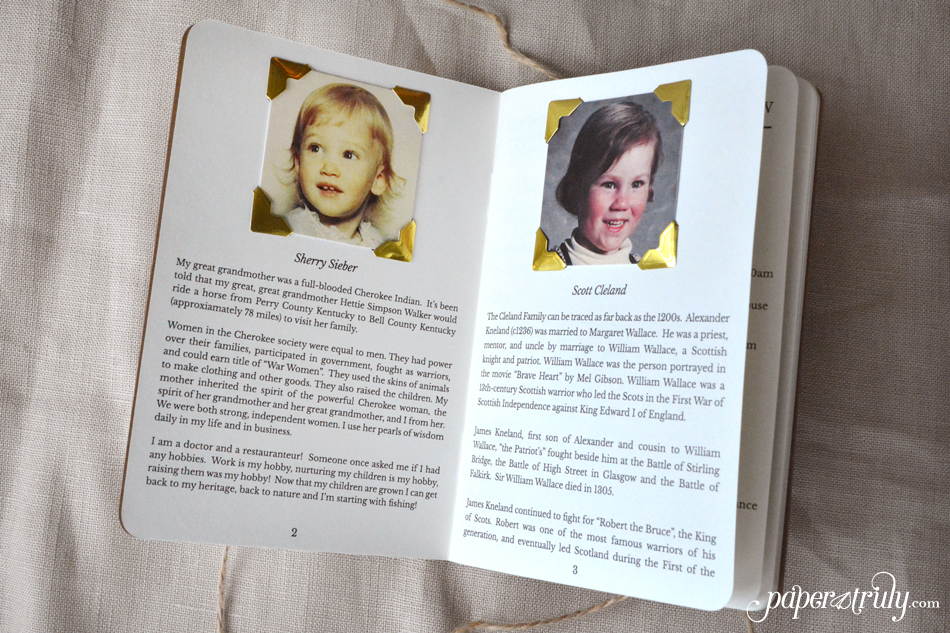 Sherry and Scott are a unique marriage of Cherokee and Scottish heritage. It was important to them to devote space in their book to their heritages as they celebrate their unity. Never before have we had a couple tell their story in quite this way. It was a nice nod to their history, even as they were celebrating their future.
The fun embellishments continued on the inside. There's a little pocket for an adventure map on Day 1 plus a library card-style RSVP slipped into the back cover.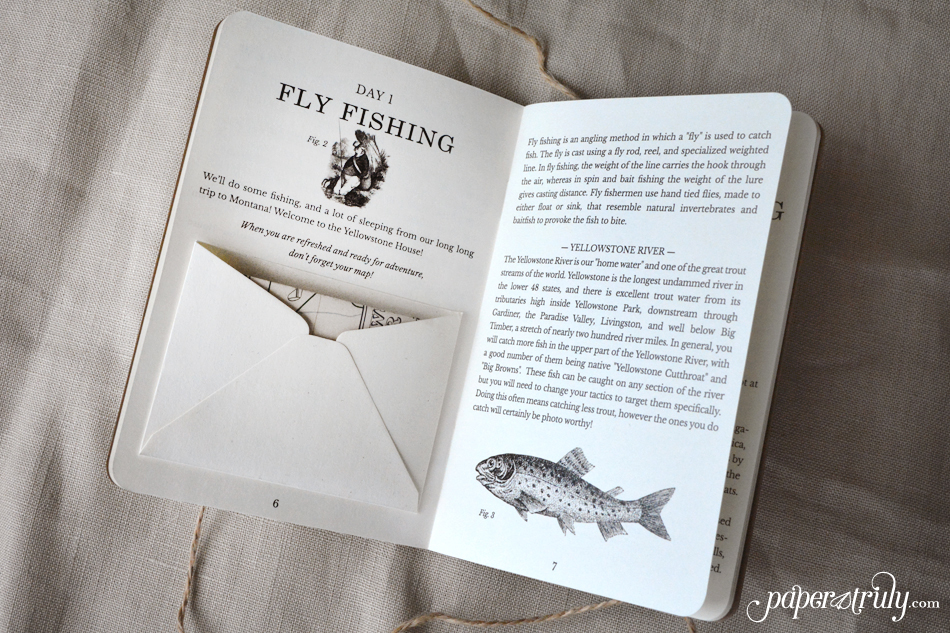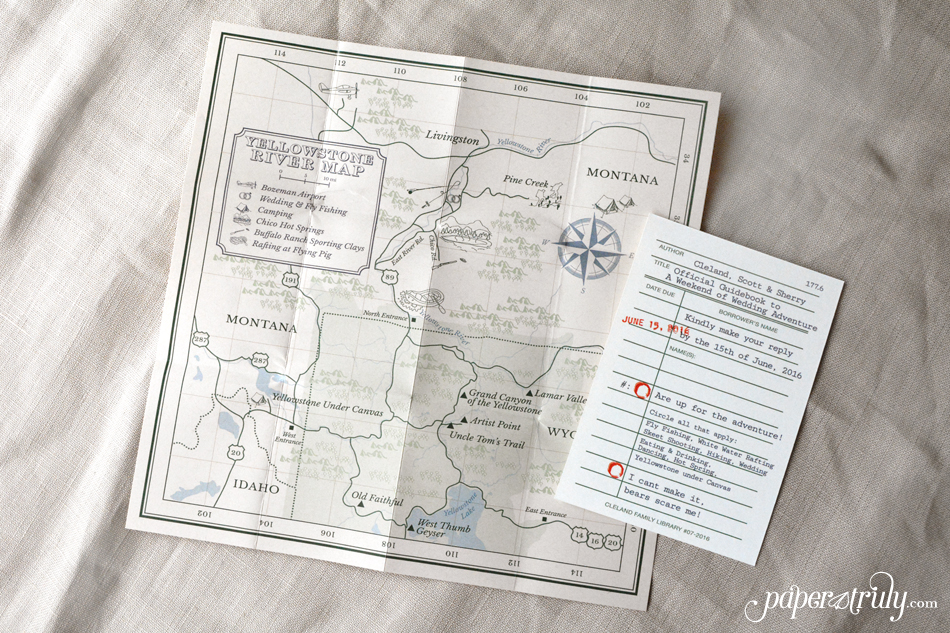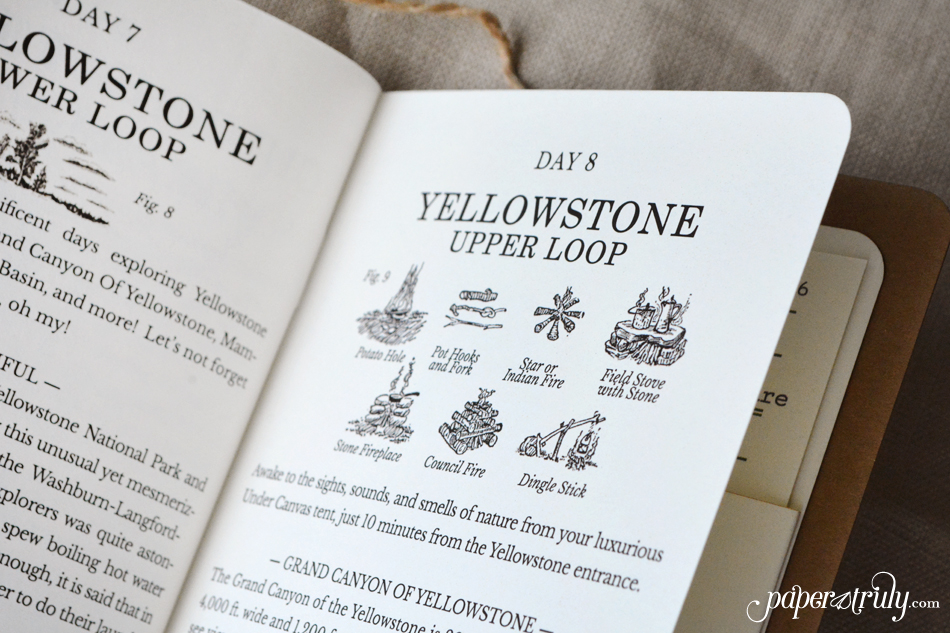 We really enjoyed every aspect of working on this design. We love interaction, and an invitation that can become such a useful item for guests was especially appealing. Add in all the interesting facts and tidbits, and we were certain guests would be excited to plan their trip to this most adventurous wedding!
Thanks to Sherry and Scott for giving us the opportunity to create such a unique piece. Congratulations on your new adventure!
Find more in the Custom Projects Gallery and learn how you can create your own custom invitation suite.