Subscribe to our bi-weekly video series on YouTube!
In the first part of our series, we covered the differences between theme, layout, and concept. We also saw some ways your layout can reinforce your theme and concept. Now it's time to look at your theme and concept and see how you can use them to make the most of your custom invitations.
Just Because You Can Doesn't Mean You Should
With a custom invitation, you can do pretty much anything. Just because you can, though, doesn't mean you should. Thanks to internet culture, we've seen a huge trend for mashups. Now, we understand: You and your future spouse are Whovian Hobbits who trained as Jedi for Starfleet at Hogwarts. We speak your language, but we don't believe that combining pop culture references automatically makes for a great custom invitation.
That's true for other interests as well: sports, literature, music, etc. After all, if you're reading this and you're not familiar with any of those things we just referenced above, there's a lot that didn't make sense to you. And that's the #1 obstacle we see with custom invitations: Confusing your guests with a mashup of 100 different things you love jumbled into one design.
Remember, theme and concept work together with your layout. Each informs the other. The tighter they are, the better your invitation is. That means more amazed guests and more RSVP's. Your story is more than a bunch of pop culture references, and what you like isn't necessarily who you are.
An Outdoorsy Example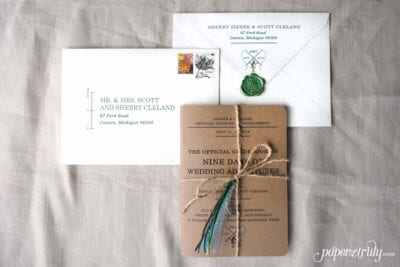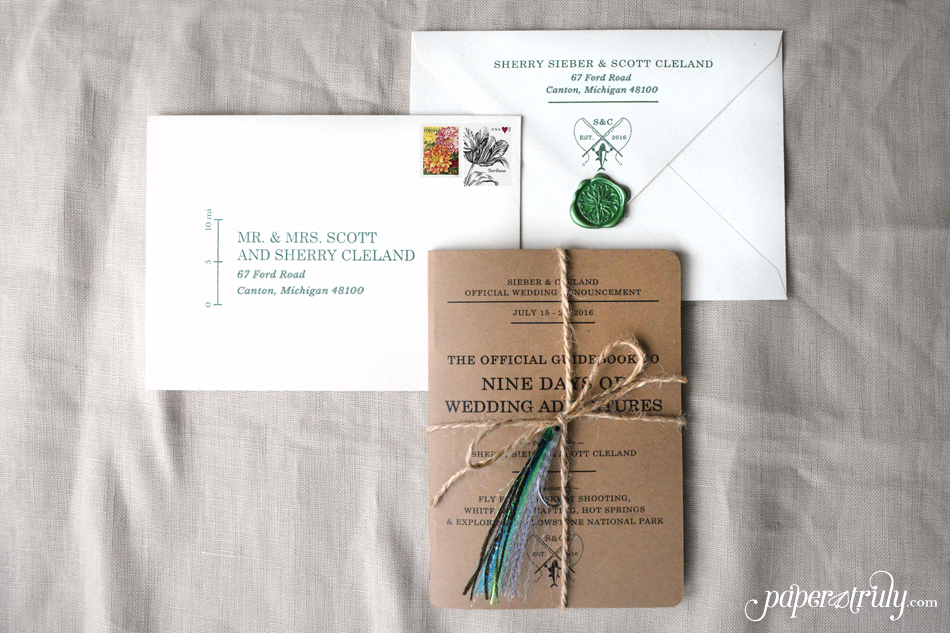 This custom outdoors adventure guidebook is a perfect example of concept informing theme informing layout. Sherry and Scott were inviting their guests to a 9-day adventure in Yellowstone National Park. Guests would enjoy hiking, fly fishing, and other outdoor activities. They needed their invitation to be functional, telling their story while informing their guests. The 16-page guidebook gave them all of the information they needed, from dates and accommodations to RSVP and activities, in an easy to read, attractive format.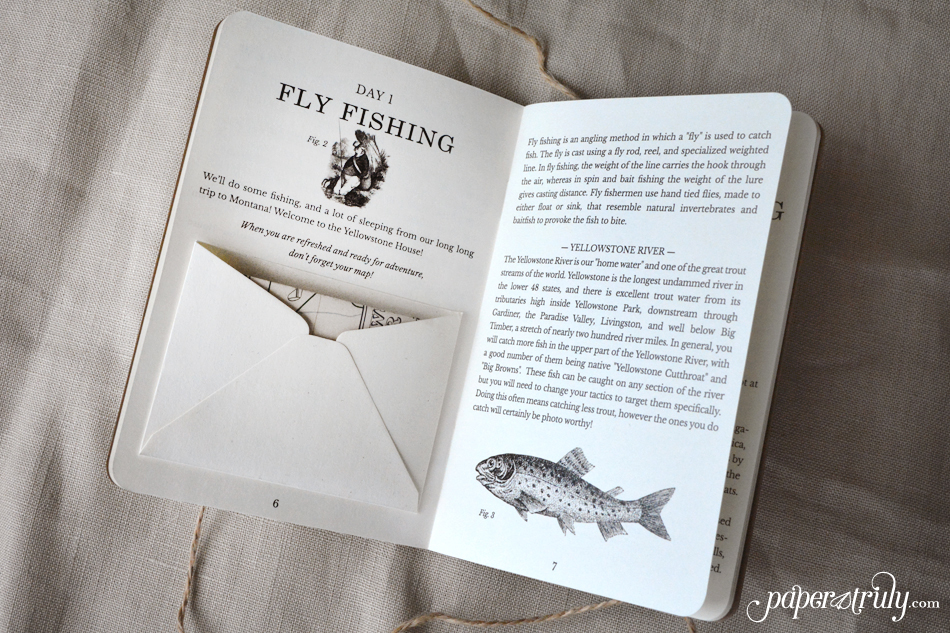 It's worth pointing out that there really is only one thematic element to this invitation. While there are embellishments like jute twine and a fly fishing lure, these only serve to support the overall theme of outdoors adventure.
Partner with a Professional
There's a lot going on with a design like that, and we highly recommend partnering with a professional to make the most of your custom invitations. But, how do you pick the right pro? Simple: Look for someone whose feedback you can trust.
Good designers will have a variety of experience outside of invitation design. For example, Melissa had experience designing everything from museum signage to corporate logos to banner ads for national brands before she started designing wedding invites professionally. Good designers know how to focus on a message and communicate it well.
Sometimes that focus means asking you, the client, to let go of an idea (or ideas) in order to focus on another, stronger idea you had. Other times, that means pushing you to explore an idea to its fullest. Creativity doesn't happen in a vacuum: If you partner with a design professional you can trust, you'll be amazed at the results!
Questions to Consider for Theme and Concept
What's the most important thing about my invitation? Or, asked another way, what's the first impression you want it to make?
Will the guests "get it"? Will they understand what you're going for? It might be funny to you, but is it funny to them? The best joke is the one the audience gets.
Do the important details stand out? Will guests know when and where the wedding is? Can they find the RSVP info? If there is other information like accommodations or dress code, is it clear?
For the mashup-minded, how much is too much? We think 2 – maybe, at the outside, 3 – thematic elements is your max. Keep the theme clear by keeping your number of elements low.
One last piece of advice: Consider all of your guests and how they'll interact with the invite. Be sure your concept is clear, your theme is strong, and your layout is solid. When those three things are working together, you're guaranteed to make the most of your custom invitations!
Follow us on Instagram, Facebook, and Twitter! Subscribe to our video series on YouTube! Browse our selection of designs to find your perfect invitations or create your own custom invites!